Roush Dealer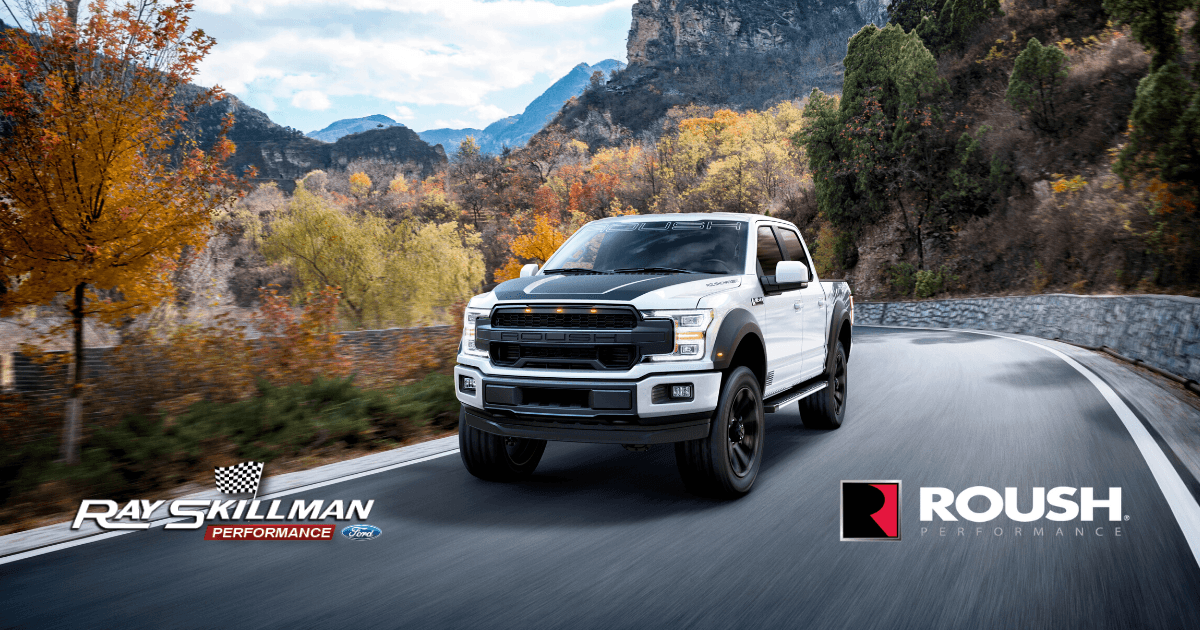 Designed to Dominate
If you're ready to experience performance that dominates the road like no other vehicle, head over to the area's five-star Roush dealer, Ray Skillman Ford. With our diverse selection of Roush cars and trucks, you'll find your perfect match.
We're a Big Team of Super Fans
These aren't just any souped-up sports cars, so when you have questions about these distinctive vehicles, you want expert advice that you can trust. As one of the world's largest Roush dealers, you won't have any problem finding a fan of these cars who can't wait to do the ultimate show-and-tell, answer all of your questions, and take you on the test drive of your life. We'll even show you how to manipulate the exhaust system to announce your arrival with your signature sound.
Unrivaled Performance
We know a thing or two about racing and performance vehicles in this part of the world. That's why you know Roush vehicles are special. These engines start out with more horsepower than most race-inspired cars top out at. If you don't flinch at the thought of several hundred horses under the hood, these are the cars—and trucks—for you. In addition to monster horsepower, these engines deliver off-the-chain torque that gets you from 0-60 faster than you read this sentence. Roush transmissions are designed for responsiveness, and they deliver fast and smooth transitions through the gears. Of course, one of the true tests of a performance vehicle is how composed it is on turns, and these vehicles do NOT disappoint. The race-tuned suspension digs deep into corners for maximum stability, and once you hit the peak of the curve, you'll feel like you're shot from a cannon.
---
---
Largest Roush Dealer
Being one of the biggest Roush dealerships in the world means we have an unbeatable selection of and unequivocal access to these very special cars and trucks.
"Wait. Trucks?!" you say…
Well, Roush isn't just race cars. At Ray Skillman Ford, we have an amazing selection of thrilling trucks that have all received the Roush treatment. With tire and wheel suspension and powerplant upgrades galore, these trucks take "extreme" to the next level.
Whatever you're looking for — whether it's a Stage 3, a Roush Mustang, or an F-150 — we've got it here for you. And it's ready to make the statement you deserve.
Performance starts at Ray Skillman Ford.

New ROUSH Mustang
Seriously, you know you're dying to put a new ROUSH Mustang in your driveway. Find yours now.

New ROUSH Stage 3
There's nothing quite like the thrill of tearing up the track in the muscle-bound ROUSH Stage 3 Mustang. Check it out now.

New ROUSH F-150
You've never met a truck as cool as this; seriously. Are you ready for this much muscle in an F-150? Of course, you are.

ROUSH Performance
With real racing looks and performance, ROUSH knows how to thrill. Add that to a Ford, and you've got something special.
---
Roush Videos
---
---
---
Ask a Roush Expert
---
---
Ray Skillman has YOUR Roush
---

The Ultimate  Wild Horse
You've heard about distinctive styling and legendary power. Now feel the power of 710-horsepower in your hands when you drive a Roush Stage 3 or Jackhammer Mustang. The supercharged 5.0L V8 engine delivers a walloping 610 pound-feet of torque.
The classic Mustang design is modified to look and feel at home on the highway or the track with aero corner pockets and body side scoops, plus a chin spoiler and a widened lower grille. The design is finished off with a distinctive graphics package and 20-inch quicksilver-finished wheels with race-tested sport tires.
---

#1 for a reason
We have something in common with our customers. The competition is always in our rear-view mirror. We're humbled by the fact that it's YOU who makes us one of the largest Roush dealerships in the world.
We happily return the favor by striving every day to be the best partner for our customers. Owning a Roush requires trusted people to answer questions and keep your vehicle in prime condition. That's the secret to our success.
---

Roush trucks are here
When you need a truck built for extra-heavy duty or you're looking for monster off-road capability, you'll find it among our broad selection of Roush trucks. They offer a variety of powerful V8 engines with plenty of horsepowers to handle the largest tasks and enough torque to tackle challenging terrain.
The F-150 raises the bar on performance with the Roush/Fox 2.0 Performance Series Suspension system. The suspension helps the truck keep its composure on and off of the pavement without sacrificing payload and towing capacity. If you like to spend your time off of the beaten path—like, WAY off—get no-nonsense performance from the Roush Raptor. It's engineered to crawl over terrain that makes other trucks flinch. Its rugged good looks are more than fancy graphics. From the roll bar to the exhaust package with 5″ black tips, the Raptor announces that it's ready to rule EVERY road.
---

Your On-Call Pit Crew
We're not the top Roush dealer just because we have a broad selection of Mustangs and trucks. We also have highly trained racing enthusiasts on our team who have bumper-to-bumper expertise about these cars. And you're also backed by a team of service technicians who know how to keep your Roush vehicle running at peak performance, so you can enjoy thousands of miles of thrills. Whether you have questions or your vehicle needs some TLC, the staff at Ray Skillman Ford is here six days a week to help you.
At Ray Skillman, we have the selection you need to match you with your new Roush. You don't just want a Roush. You want YOUR Roush. If anyone has the perfectone for you, it's Ray Skillman.
---
Ray Skillman Customer Reviews
---
Ray Skillman Performance Ford tells of a "world class sales experience". That is exactly what my purchase was. Absolutely great service from beginning to end!
A great purchasing experience with helpful and knowledgeable staff.
Carson Flory was extremely helpful and made sure that my Boss 302 was delivered as advertised and as promised. He answered all my questions and even took videos of the car for me. I live in California so I wasn't able to see the car or test drive it. Their delivery team Montway and Masney Auto Enclosed Inc was excellent. Ray Skillman Ford made sure that I received a top notch delivery team since these Boss 302's are limited additions. Carson is a great asset to Ray Skillman Ford dealership! I also want to thank Kevin who handled my loan ...
My husband and I came in looking for a family car. The team was amazing. Josh was great! He was very friendly and personable. He even test drove the car for us since we didn't have insurance yet. Kasey was so polite and understanding. She walked us thru the whole process and even helped us do a budget sheet. And Denise was AMAZING! She is so friendly and made us feel like family, also go us alot of good discounts on our insurance!! We will never go anywhere else again!!!
---