Why Choose ROUSH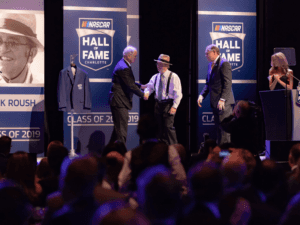 Jack Roush always said, "Between a Road Car and a Race Car is a ROUSH Car!"
Roush's automotive career began as an engine developer for Ford Motor Company. He quickly was drawn to drag racing and created his own team and won multiple championships over the years. Combining engineering and entrepreneurship, he founded Roush Performance Engineering in 1976.
Roush's time racing span across all forms of motorsports from NRHA, IMAS, SCCA, and NASCAR just to name a few. Some of his most notable wins include 10 consecutive championships at 24 Hours of Daytona sedan class. With the boldest leap into NASCAR in 1988, he started with a one team car and driver Mark Martin. He created an astounding reputation for driver development, having 13 drivers earn Rookie of the Year awards and 19 different drivers win while driving his cars.
In 2007, Roush Racing and Fenway Sports Group formed Roush Fenway Racing to create one iconic partnership. This partnership has won over 325 Cup Series victories and five owner championships. Jack Roush is now the winningest owner in NASCAR history and an icon of American engineering. Roush was also inducted into the Automotive Hall of Fame in 2017 and set to be inducted into the 2019 NASCAR Hall of Fame.
Engineer at heart, Roush has created multiple technological and safety innovations. He created the roof flaps to disrupt airflow to help prevent stock cars from going airborne.
The ROUSH Promise
At ROUSH Performance, it's not enough to deliver heart-pounding performance, unparalleled refinement, and race-inspired styling. We take a step further and back it up with an industry-leading 5-year, 60,000-mile powertrain warranty to show you that we are with you on this ride.
ROUSH vehicles are rigorously engineered and tested to prevent issues down the road, but should they occur, you can rest assured knowing that we are here to help. All new ROUSH's come standard with 3 year/ 36,000 miles body warranty and 5 year/ 60,000 miles limited powertrain warranty.