ROUSH F-150 Indy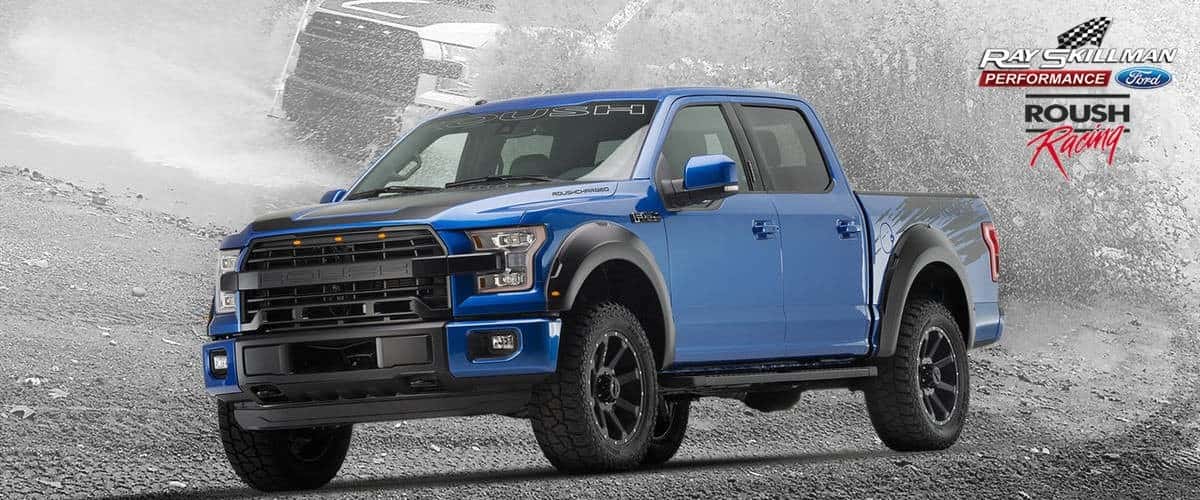 Ray Skillman Performance Ford
The New Ford ROUSH F-150 – The Off-Road Race Truck
The ROUSH F-150 is your performance off-road truck in Indy. It was built to outperform the competition and give you better handling when you need it. Come see the ROUSH F-150 at Ray Skillman Ford today.
Do you need a truck, but not just any average truck? Do you want a better off-road vehicle to take your off-road experience to the next level? When you want a better way to drive on and off the asphalt and performance unlike any other truck on the market, you want the ROUSH F-150. Let Ray Skillman give you a full tour of the ROUSH F-150 truck and see why people are raving about this performance machine.
Superb Styling
You know and love the Ford F-150 for its capability and power. You love its bold styling and off-road capability, but there is a truck on the market that is changing the game, especially when it comes to off-road capability. This fun to drive performance truck is the ROUSH F-150 and it is one stylish and capable off-road truck. ROUSH took the Ford F-150's aluminum lightweight body and made it even better. We know, we didn't think it was possible either. They added plenty of ROUSH components to enhance the styling and added ROUSH graphics so it stands out from the crowd. The ROUSH F-150 truck features the ROUSH Side-Exhaust System to give it a bolder look. When you step inside of the cabin, you will notice ROUSH branding throughout. Notice the ROUSH molded front and rear floor liners from WeatherTech as well as a serialized ROUSH console badge. Come see the ROUSH F-150's unique styling at Ray Skillman Ford.
Powerful Performance
With a name like ROUSH, you know it had better perform. This is especially true when it comes to trucks. You want it to be powerful, capable, and play hard when you take it off-road. The ROUSH F-150 is the off-road performance truck you have been waiting for. It is one of the most capable off-road performance trucks on the market. ROUSH teamed up with FOX to give you the best in performance. The ROUSH F-150 is equipped with a 2.0 Performance Series Suspension System that features Coilovers and Shocks with Boots. It also features ROUSH 20-inch wheels; wrapped in custom Mickey Thompson Baja ATZP3 305/55 rubber tires, sitting at all four corners. The Locking Lug Nuts and Key Bag are included to keep them safe. You won't be disappointed when you take this bad boy for a spin. Not only is it built to outperform; it is fun to drive too. Stop by Ray Skillman Ford and take the ROUSH F-150 for a test drive today.
Impressive Optional Features
There are plenty of things to love about this cool truck. The exterior branding alone makes this truck looks like one bad mother, but you can customize your ride even more with optional features from ROUSH. The ROUSH F-150 can be enhanced to your liking with features like ROUSH coil covers that are either black or red (available on the V8 only). Customize the interior with ROUSH leather seating and choose from black or silver stitching. You can also opt for a "Splash" style graphic instead of the Heritage style graphic if you prefer. Keep your valuables safe with the console vault, and keep your ROUSH F-150 safe when you opt for the LoJack Vehicle Security System that can track it down if someone takes off with your ride. Other optional features include the ROUSH Tool Bag and ROUSH Revolution Soft Tonneau Cover by ExTang. Come see how you can customize your ROUSH F-150 at Ray Skillman Ford.
Ray Skillman Performance Ford – Your #1 ROUSH Racing Source
Ray Skillman Ford is your destination for ROUSH vehicles including the ROUSH F-150 truck. We are honored that ROUSH has chosen us as one of the select Ford dealers that can offer this performance truck to our customers in Indy. We offer a huge selection of the ROUSH F-150 trucks for you to choose from so you won't have to drive far to find the ROUSH F-150 of your dreams. Take a look at our inventory online to find the ROUSH vehicle of your dreams, then come down and take a test drive. We look forward to meeting you and earning your business. Feel free to contact us by phone, email, or in person if you have any questions.

New ROUSH F-150 Indy
Seriously, you know you're dying to put the ROUSH F-150 in your driveway. Find yours now.

Pre-Owned ROUSH F-150 Indy
There's nothing quite like owning an ROUSH F-150, that's why it's easy to maintain a strong selection of pre-owned models to choose from.

Incentives and Rebates
The Ray Skillman discount is always above and beyond what Ford offers on new vehicles.
Experience the Skillman Difference
Buying a vehicle is a special experience. We understand that this isn't something our customers do every day, which is why we treat every interaction with the respect that it deserves. Ray Skillman has served the Indy market for decades because we believe that the community and its people supersede any expectations set by a corporation. This is your community. This is our community. When you are shopping for a new or used Ford ROUSH F-150, you expect the experience to match the promise, which is why we are open and transparent every step of the way. Below, you will find more information about the ROUSH F-150. We hope that you'll contact us and allow us the opportunity to show you why buying from Ray Skillman Ford truly is the best shopping decision you can make.
Ray Skillman Ford ROUSH F-150
There's more to a vehicle demonstration than picking out colors and taking a test drive. At Ray Skillman Ford, we want you to know everything that's important to YOU for your next new vehicle. The ROUSH F-150 is uniquely positioned in the Indy market because of our love of high-performance, super-tough machines. The ROUSH F-150 has the proper mixture of strong performance and do-it-all toughness that's appealing to Indy. Our team is here to make sure you're aware of every feature, tip, and maintenance best practice because we take pride in delivering the ultimate shopping experience for our customers. Watch this video and get a taste for how we assist our customers in making the best selection for them.
Attention to detail is important. You won't miss a thing when you shop at Ray Skillman Ford.
---
We know you have many options when it comes to Ford dealers in the Indy area. Our hope is that you will give us the first opportunity to earn your business because of the tremendous experience, great pricing, superb ROUSH F-150 selection, and our commitment to making your buying experience the most positive one you've ever had when shopping for a vehicle. We stand behind the ideal of delivering the type of respectful engagement that the people of Indy deserve and if you give us the first opportunity, you'll see why our customers come back time and time again.
---
WHY RAY SKILLMAN FORD
---
Ray Skillman Ford is Indiana's Only…

Some dealerships take pride in their sales numbers. Others point to their P&L statements to determine their success. At Ray Skillman Ford, the most important indicator of whether or not we're successfully achieving our goals is when you are overwhelmed by our outstanding customer experience. It goes beyond satisfaction. We want you to be ecstatic with the way you were treated and impressed with how easy it was to get the best Ford ROUSH F-150 deal in Indiana. Your opinion is the one that matters at Ray Skillman Ford. It's what drives our success.
---
Customers Come First
See What Our Customers Are Saying
---
---
Your ROUSH F-150 Shopping Experience
We hope we've answered most of your questions about why you should consider Ray Skillman Ford as your first choice when shopping for a new or pre-owned Ford ROUSH F-150. If you are ready to learn more, please contact us through your preferred method of communication and ask us anything you'd like to know. If you're ready to schedule your test drive, please use the form below. At Ray Skillman Ford, you control your shopping experience. We're here to help facilitate and to be your personal ROUSH F-150 experts.