Roush F-150 NITEMARE for Sale in Greenwood, IN

Lowered and lethal describes the ROUSH Ford F-150 NITEMARE.  This lowered street performance truck has 650 Horsepower and 610 lb-ft of torque.  This is sure to be a nitemare you do not want to wake up from.  This aggressive performance street truck contains the ROUSH TVS R2650 Supercharger System on Ford's 5.0L Ti-VCT V8.  This sleek street truck can go from 0-60 mph in 3.9 seconds and the SuperCrew 4×4 in just 4.1 seconds.  This NITEMARE is the quickest production truck ever built.
Check Out This Super Charged F-150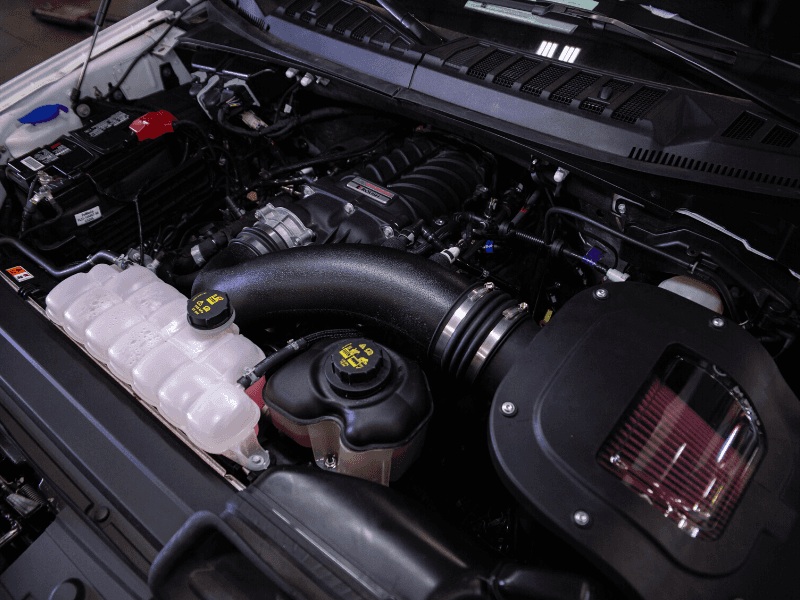 You may not need the fastest, strongest, and most attractive truck on the road, but who said you should only get what you need? Stop by Ray Skillman Ford and explore a Ford F-150 Nitemare for sale in Greenwood, IN, today.
Roush Performance is known for its incredible modifications to cars like the Ford Mustang, but it also enhances other Ford vehicles as well. One of the craziest creations of this American automotive company is the Ford F150 Nitemare for sale. The Roush Nitemare is a $20,000 upgrade that turns a mundane FWD F-150 into a Roush Super Truck.
If you are looking to treat yourself to the fastest, strongest, and most stylish half-ton pickup truck available, stop by Ray Skillman Ford. Since the first day we opened our doors, we have committed to offering stellar customer service and everyday low prices. Stop by today and see why everyone comes to Ray Skillman Ford to find their next amazing rigs.
An Enhanced V8 Engine
The Roush Ford F150 Nitemare for sale takes the F-150's 5.0-liter V8 engine and throws in a potent 2.7-liter Eaton supercharger. This supercharger force-feeds the engine 14 pounds per square inch of boost to increase the engine's output from 395 horsepower and 400 lb-ft of torque to a solid 650 hp and 610 lb-ft of torque.
The Ford Nitemare for sale also comes with a massive intercooler, cold-air intake, revised intake manifold, bigger throttle bodies, and an enhanced electronic control until (ECU).
Roush claims that the Ford Nitemare can blast off from zero to 60 mph in just 3.9 seconds. Even the SuperCrew body can hit 60 mph in just 4.1 seconds. That's some serious speed for a pickup truck. In fact, no other production truck can even keep up.
In Your Face Style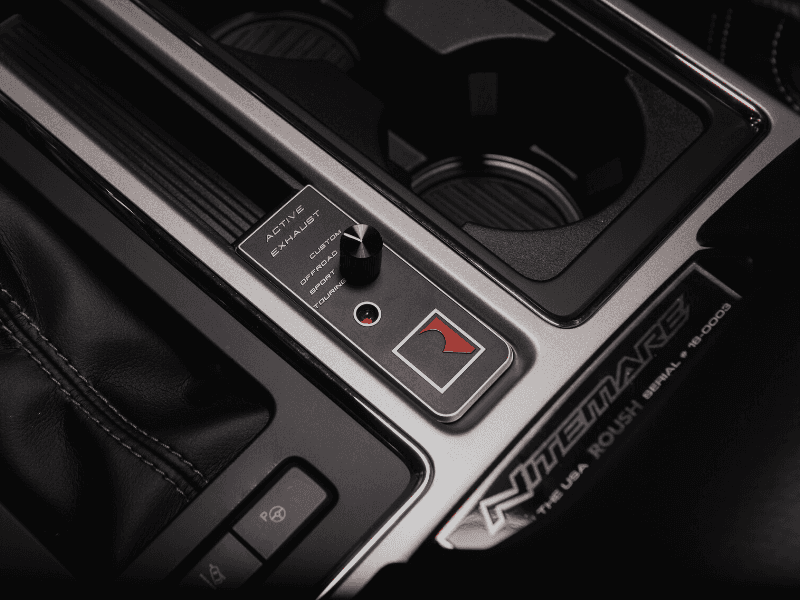 The Roush Nitemare for sale isn't just popular for its performance. This rig also provides an unmatched style that is anything but subtle. It comes with a grille inspired by the Ford Raptor that comes with accent lighting, a full graphics package that pays homage to the F-150 Tremor, and a set of 22-inch black wheels.
Everyone will notice the exclusive Nitemare graphics package that features a hockey stripe side graphic, a tailgate blackout package, hood graphics, USA flag graphic, and the Jack Roush signature graphic. Complimenting this bold look are fresh puddle lamps that light up the ground with the Roush R logo whenever you lock or unlock your Nitemare with the unique Roush key fobs.
For a small upcharge, shoppers can upgrade to an optional leather interior package. This add-on comes with black-and-red seats with the word "Nitemare" etched into the seatback. There are also small but attractive changes to the gauges that include new fonts that create a unique look and feel.
A New Roar
One of the best parts of driving a high-performance pickup truck is the rumbling and roaring engine. This beast is loaded with the Roush Performance Exhaust system that ensures that the sound matches the performance. You can upgrade to an active exhaust system that uses Roush Performance valve technology that allows you to choose between four settings: touring mode, wide-open mode, sport mode, and custom mode. The sound of your Ford Nitemare can be adjusted from the cabin or the Roush Active Exhaust phone app.
The standard Touring mode is slightly louder than the regular F-150 V8 engine. The Sport mode switches to a louder exhaust that sets as the revs climb. This mode is the epidemy of what you'd expect from a dual-mode exhaust. The Wide-Open opens the exhaust from a standstill to provide a full-throated sound at any engine speed. The Custom Mode is one of the most interesting. Using the smartphone app, drivers can create their own exhaust profile to give them the sound they desire.
The Best $20K You'll Ever Spend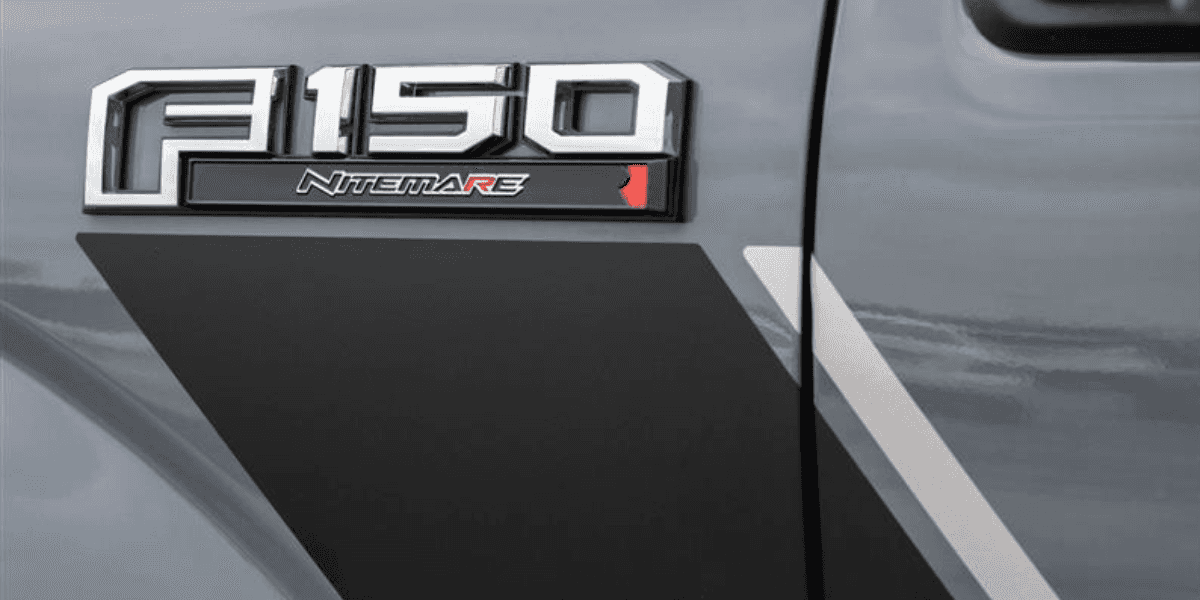 The Roush Nitemare for sale starts with an upgrade fee of $19,150 to turn a standard 5.-liter F-150 into a Roush Nitemare. This is Roush's third most expensive modification package to date. It's not a bad price to drive away with the fastest production truck on the road.
That $20k also covers a number of other core components that make this upgrade a true value:
650 HP ROUSH TVS R2650 Supercharger Package
Dual Tip Performance Exhaust System
22-Inch Black Wheels Wrapped in Continental CROSS CONTACT LX20 285/45R22 Tires
Front Grille With Accent Lighting
Front Bumper Cover
Molded Floor Liners (Fr./Rr.) by WeatherTech®
USA Flag Graphic
Jack Roush Signature Graphic
Hood Graphic
Hockey Stripe Side Graphics
Tailgate Blackout Graphic
Front Windshield Banner
ROUSHcharged" Hood Graphic
Sport Lowering Kit
Serialized Console Badge
Square "R" Hitch Cover
Locking Lug Nut Set
You can also improve your Roush F150 Nitemare with these optional elements:
Dual Tip Active Exhaust System
ROUSH Tonneau Cover by ExTang
Nitemare Leather Seating – Red & Black
Console Vault
ROUSH Off-Road Utility Kit
All of this comes with a generous three-year/36,000 mile warranty to ensure you hit the road with peace of mind.
FOLLOW US ON
THE RAY SKILLMAN ADVANTAGE
Ever since we first opened our doors, we've believed in offering top-notch customer service. That's why you won't find any gimmicks or high-pressure sales techniques. Our team loves spending time to get to know you and your needs so we can help you find the right car for your life. Our professionalism extends beyond the showroom and into our finance department, as well. Whether you're looking to buy or lease, we work with you to find the right options for your budget. It's about time you treated yourself to a car-buying experience worthy of your time. Stop by and see the Ray Skillman difference!  Race into Ray Skillman to get a Roush.
We appreciate your interest in our inventory, and apologize we do not have model details displaying on the website at this time. Please fill the form out below and our team will quickly respond, or, please call us at 317-885-9800 for more information.