Mach-E in Greenwood, IN

Electric | Exciting | Exhilarating | Exceptional | Enchanting | Eccentric | Excellent
The 2021 MUSTANG MACH-E is ELECTRIC. Built from passion and iconic heritage. Enjoy all of the thrills with no emissions. Here at Ray Skillman Ford we are excited to be on this journey with you. As you await the delivery of your brand new 2021 MUSTANG MACH-E we are going to fill you in on everything there is to know as it becomes available!
300 Mile Range | 0-60 mph – mid 3-sec | 47 miles in 10 minutes | 459 horsepower | 612 lb-ft torque
EXHILARATING
No matter the challenge thrown at the Mach-E it has been tested, challenged and passed with flying colors. This crossover SUV holds onto the iconic Mustang look while running away with technology. From the words of Bill Ford, the new vehicle should, "look, feel and drive like a Mustang. And it better go like hell".

EXCEPTIONAL
AWD in electric delivers exceptional handling and capability. Having motors in the front and rear allows for power distribution to individual wheels, this will help you take on snowy roads or anywhere else you want to go.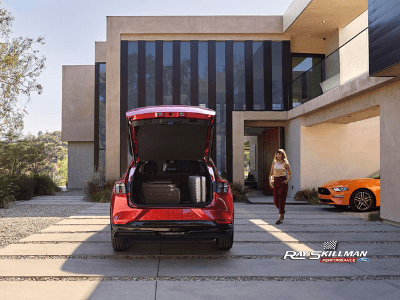 ENCHANTING
Fit more in a Mach-E. With a spacious interior. There will be plenty of legroom for everyone to enjoy. Store all of your belongings in one of the two trunk spaces. The front trunk has 4.8 cu ft of water-resistant, washable, including a drainage system making it perfect for tailgating, camping and your even your muddy gear. If you need even more space for things such as skis or snowboards you can fold down the back seats to accommodate.
EXCELLENT
As an electric vehicle owner, there are so many benefits you will enjoy. There is a potential government incentive of $7500. A potential annual maintenance savings of $285 and potential annual fuel savings of $893. Over five years this could total up to $13,390.
Your NEW MUSTANG MACH-E is covered by a new vehicle limited warranty:
– Electric Unique Component coverage: 8 years or 100,000 miles
– Powertrain coverage: 5 years / 60,000 miles
– Bumper to Bumper coverage: 3 years / 36,000 miles
– Safety Restraint System coverage: 5 years / 60,000 miles
– Corrosion coverage: 5 years / unlimited miles
– Electric Vehicle Roadside Assistance Program: 5 years / 60,000 miles
– Battery will be recyclable
How To Maximize The Range on your MACH-E
1. Use Departure Times to begin cabin conditioning while your vehicle is plugged in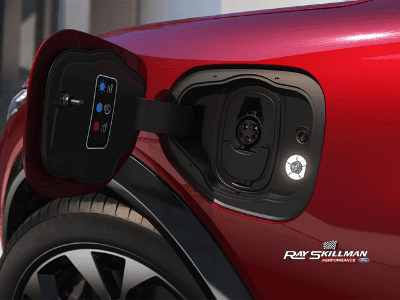 2. Use heated accessories rather than cranking up the heat
3. Use eco-driving techniques such as watching your speed and minimize head starts
4. Clean off snow and ice as the added weight increases aerodynamic drag
EXCITING
Your MACH-E includes access to the FordPass Charge Network, this is a big deal. You have access to over 12,500 public charge stations. This network is the largest top-off network in the country. Of course you can charge at home with the Ford Connected Charging Station. Each Mach-E will also come with a mobile charging cord that adds 30 miles of range with an overnight charge using just 120-volt outlet.
Download the FordPass™ App
This app will be essential when you take ownership of your MACH-E. With this app, you will be able to monitor charge status, locate and pay for charging, precondition the vehicle, use a mobile device as key, monitor EV Roadside Assistance and much more.
Phone As A Key… No More Key Fob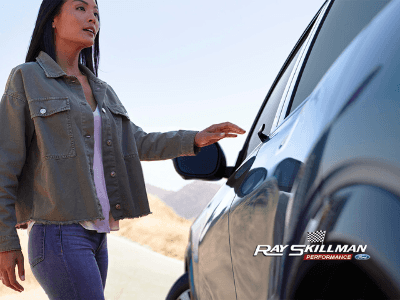 – Unlock & lock doors
– Engage remote start
– Open the liftgate
– Locate parked vehicle
– Activate panic alarm
– Activate welcome mode
– Open and close windows
– Operate in temporary valet mode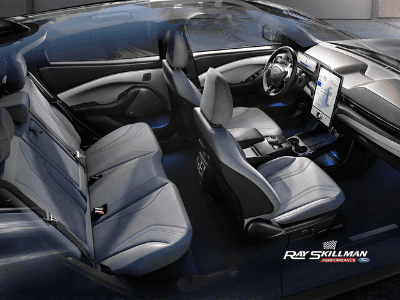 Inside the MACH-E is ECCENTRIC
You can not wait to crawl into the luxury of the Mach-E. Some things to look forward to:
– Seating for five adults
– B&O Sounds System by Bang & Olufsen
– Flip-up armrest provides storage for purses and bags
– Panoramic fixed-glass roof
– 59.6 cubic feet of trunk space
– 15.5-inch center touch screen with Next-Generation Sync
– Updates over the air, constantly improving content
MACH-E Knows You
When you approach your new MACH-E with your mobile device, it will know it is you and automatically adjust seats, mirrors, radio, lighting, and instrument panel. You can customize the Driver Experience to fit your mood, choose between Unbridled, Engage, Whisper.
SAFETY
– Forward collision warning
– Automated emergency braking
– Blind-spot monitoring
– Rear cross-traffic alert
– Lane-departure warning
– Lane-keeping assist
– Auto high beams
– Active Park Assist
MACH-E VIDEO
Making The Mustang Mach-E… It's long but its a must watch