Bronco FAQ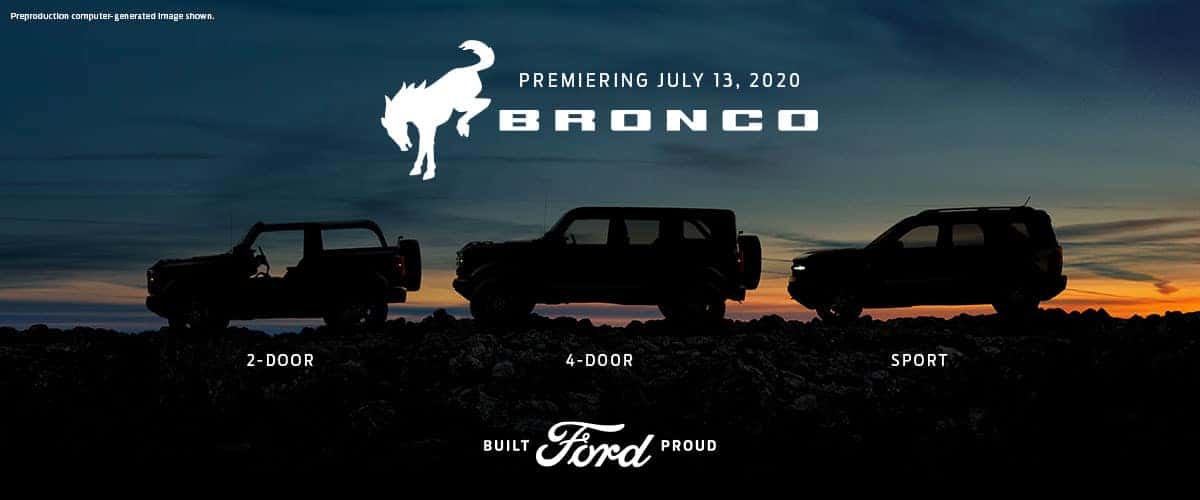 FORD BRONCO FREQUENTLY ASKED QUESTIONS
When does each vehicle go on sale?
Bronco Sport starts arriving in dealers by the end of 2020, followed by Bronco two-door and four-door models in Spring 2021.
You originally said Bronco would debut in spring 2020. July is summer. Is Bronco production behind schedule, too?
We're showing the Bronco family on July 13 and will start to deliver some Bronco models to dealerships late this year. The inability to work in the assembly plants during the shutdown due to COVID 19 meant we had to update launch timing; those delays were commensurate with the shutdown period.
Why not launch them at the same time? Or launch the larger Broncos first?
It's down to manufacturing timing; we expect customers will be excited by both.
How much will it cost to reserve a Bronco? Pricing for each model?
Reservations will cost $100 for each model. We'll start sharing more details about Bronco pricing soon.
Is the $100 refundable?
Yes, automatically with reservation cancellation.
Will reservations be fulfilled in the order placed?
Reservations will be fulfilled in approximately the same order received, based on the final ordering and production of similarly configured Broncos. All reservations will be completed before the production of stock units begins.
When will customers be able to finalize their reservations?
Expected to be July for Bronco Sport and December for Bronco.
What do you mean by Bronco brand?
Bronco is Ford's outdoor brand developed for adventurers with an innovative, 4×4-only vehicle lineup.
Why Bronco, why now?
Building on Ford's strength in SUVs, seeing the most SUVs ever purchased in 2019, and a growing surge in consumers wanting to get back to nature, there couldn't be a better time to bring America's first and original "sports utility vehicle" back to market.
What is new Bronco's main competition?
We're already the number one cross-shopped brand with Jeep. Bronco is an iconic and beloved franchise and July 13, we're excited to show you the all-new lineup and why it's a better choice for customers who love rugged SUVs.
Why do you think Bronco is trending and is so popular among off-road enthusiasts and Americans interested in new vehicles right now?
After we shelved the Bronco in 1996, a funny thing happened. Love for Bronco only grew.
When did the original Bronco debut?
Bronco debuted on August 11, 1965, as a 1966 model year vehicle.
How many generations of Bronco are there?
The all-new Bronco is the sixth generation of Bronco since the vehicle's release in 1966.
Why did Bronco end in 1996?
Popularity of old school, two-door, truck-based SUVs waned in the 1990s. Consumer tastes in the 1990s shifted, and Ford took advantage of the growing four-door SUV markets with all-new vehicles like Ford Explorer (America's best-selling SUV for more than the past quarter-century) and full-size Ford Expedition.
What is Bronco R?
Bronco R is our purpose-built desert-racing Bronco prototype by Ford Performance, celebrating Bronco's historic Baja 1000 win in 1969.
What will all Bronco models have in common?
Every Bronco is Built Wild, delivering a thrilling and confident off-road experience that uniquely draws from 55 years of design and racing heritage plus ingenious adventurer-centered design insights and Bronco-variant architectures to create modern and fun-to-drive off-road vehicles.
What is the difference between Bronco and Bronco Sport?
Bronco is a body-on-frame vehicle, while Bronco Sport is a unibody vehicle. Both come with 4×4 standard and are intended for off-road use.
Will all Bronco vehicles have 4×4?
Yes, all Broncos will have 4×4, making Bronco the only domestic family of SUVs with standard 4×4.
What makes up Bronco's Built Wild promise?
Built Wild is our brand promise for every Bronco model to deliver on our three key pillars: Built Wild Extreme Durability Testing, Built Wild Capability and Built Wild Innovative Design.
What is Built Wild Extreme Durability Testing pillar about?
Toughness. Our Built Wild Extreme Durability Testing torture tests across thousands of lab, proving ground and real-world extreme challenges in the harshest climates.
What is Built Wild Capability pillar about?
It speaks to the legendary 4×4 confidence to Go Over Any type of Terrain (G.O.A.T.) provided by unique Bronco-variant architectures with class-leading levels of capability, suspension and trail technologies.
What is the Built Wild Innovative Design pillar about?
Broncos are the future of off-roading, and Built Wild Innovative Design delivers off-road ingenuity, design innovations coupled with heritage inspired DNA, plus new-levels of personalization that can be easily achieved by a novice –all for a truly next-level adventure experience.
What does G.O.A.T. stand for?
Goes Over Any-type of Terrain.
Where did G.O.A.T. come from?
The original Bronco, a 4×4 project nicknamed G.O.A.T. by Donald Frey, lead for both Mustang and Bronco, was ahead of its time, delivering "go anywhere roadability" and knowhow of Ford's purpose-built 4×4 GP military vehicles built during WWII.
Which architecture is the Bronco two-and four-door based on?
The all-new Bronco two-and four-door models feature a Bronco-variant of Ford's new second-generation global midsize truck architecture. This even more rugged and off-road capable architecture is similar to the Ford Ranger and built alongside the midsize truck at Ford's Michigan Assembly Plant.
Which architecture is Bronco Sport built on?
Bronco Sport is a unique vehicle with Bronco DNA. It uses a highly modified, Bronco-specific version of Ford's small vehicle architecture that's been optimized to deliver the capability a small rugged SUV demands.
Which accessories is Bronco launching with?
Bronco is launching with more than 200 factory-backed aftermarket accessories for more capability, personalization and style.
Will Bronco Sport come with special accessories, too? What kind and from which partners?
Bronco Sport is launching with more than 100 factory-backed accessories.
What is Bronco Nation? And who is it for?
Bronco Nation is the first and only nationally recognized and certified independent Bronco community. It's for current and future Bronco owners as well as outdoor and off-road enthusiasts to celebrate and share their passion for Bronco.
What is the formal relationship between Bronco Nation and Bronco Brand/Ford Motor Company?
Bronco Nation is independent and certified national Bronco Club through Ford Motor Company and Ford's Club Connect program.
Where will Bronco models be built?
Bronco two-door and four-door models will be built at Ford's Michigan Assembly Plant in Wayne, Mich. –the only plant where Bronco has ever been built. Bronco Sport will be built at Ford's Hermosillo Assembly Plant in Hermosillo, Mexico.