2018 Ford F-150 Plainfield IN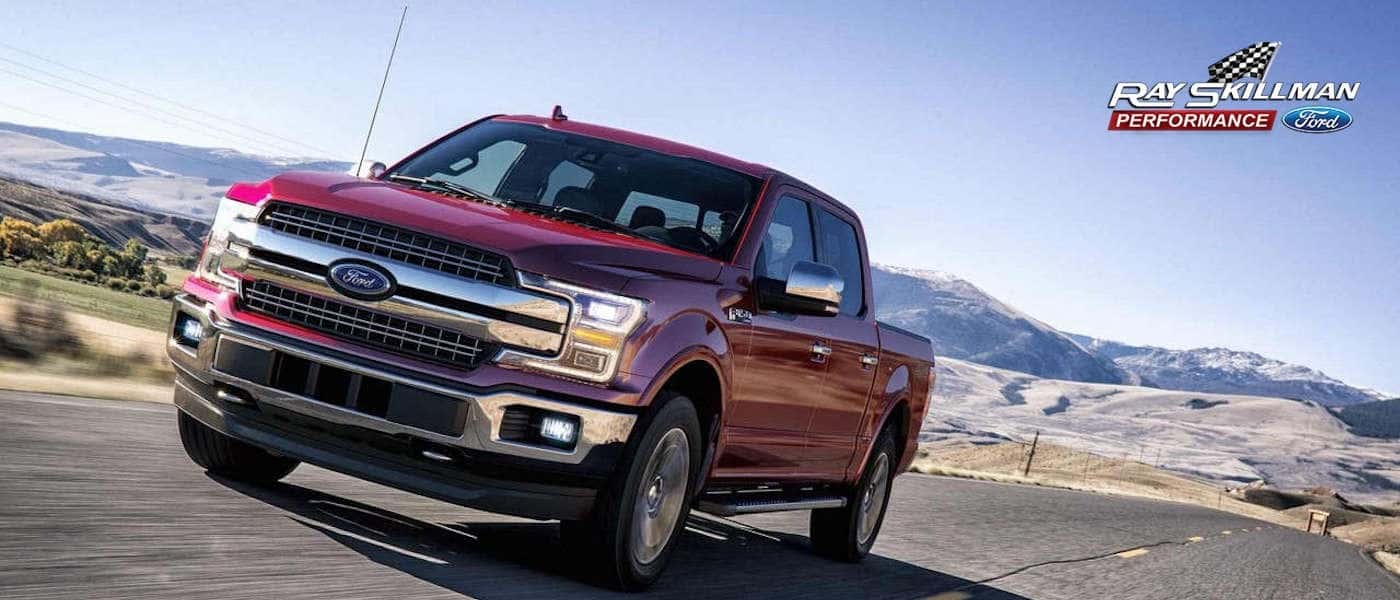 Ray Skillman Performance Ford
The 2018 Ford F-150 – Be The Bar
With the all-new 2018 Ford F-150, Ford didn't just raise the bar it IS the bar. Explore the best F-150 ever with the Ray Skillman Performance Ford team.
From top to bottom, grill to tailgate, and from the outside in, the 2018 Ford F-150 is quite possibly the most perfectly put-together pickup the world has ever seen. This truck will command the road and demand your attention; as well as that of just about every other truck fan out there.
Simply The Best
The 2018 Ford F-150 was built to beat all comers in the full-size pickup class. The result? Your 2018 F-150 leaves the competition in the dust across the board. Are you ready to count the ways in which the 2018 Ford F-150 is simply the best? When it comes to powertrain, the 2018 F-150 sports the most advanced lineup ever. That means you get best-in-class torque, along with some incredible capability features. How about best in class payload and towing? Yep. You'll get that, too. The 2018 Ford F-150 can haul up to 3,270lbs and tow up to 13,200lbs. How's that for performance under pressure? Do you want to know the best part? There are even more best-in-class features to explore. Stop into Ray Skillman Performance Ford to experience them all firsthand.
Leaner & Meaner
The 2018 Ford F-150 went to the gym and got leaner, lighter, and stronger. In fact, the 2018 F-150 lost about 700lbs. from its previous incarnation. Once you add in the high-strength military-grade aluminum alloy body, you get a lean, mean machine. We're not talking about your average, run-of-the-mill aluminum, either. The 2018 Ford F-150 is constructed of heat-treated and hardened aluminum alloy. That's the kind of high-grade 6000-series aluminum used in big time military and industrial applications. Oh yeah, we almost forgot to mention the fully boxed frame made from up to 78% high-strength steel. Are you getting excited yet? You should be.
The Total Package
The Ford F-150 isn't just tougher; it's smarter, too. As unbelievable and incredible as the F-150 may be in terms of performance and capability, it's also quite a marvel where technology is concerned. You're going to be amazed by the level of convenience and innovation awaiting you inside the 2018 Ford F-150. From integrated tailgate steps and deployable box steps to an available 360-degree camera with SYNC® 3 with SYNC® Connect, there's a lot in store for you with the 2018 Ford F-150. You can let your F-150 work harder while you work smarter.
Ray Skillman Performance Ford – Your Perfect Pickup Paradise
At Ray Skillman Performance Ford, we look out for you. Our customers' needs are always our number one focus, and their total satisfaction is our priority. That's why we go to great lengths to offer superior service, value and the best selection of amazing Ford vehicles like the F-150 anywhere in or around Plainfield. Contact us with your question after you take a peek at our huge selection of Ford F-150 models. When you're ready, stop in to climb up behind the wheel and experience all that the amazing 2018 Ford F-150 can do for you.

New F-150 Plainfield
Seriously, you know you're dying to put the new F-150 in your driveway. Find yours now.

Pre-Owned F-150 Plainfield
There's nothing quite like owning an F-150, that's why it's easy to maintain a strong selection of pre-owned models to choose from.

Incentives and Rebates
The Ray Skillman discount is always above and beyond what Ford offers on new vehicles.
Experience the Skillman Difference
Buying a vehicle is a special experience. We understand that this isn't something our customers do every day, which is why we treat every interaction with the respect that it deserves. Ray Skillman has served the Plainfield market for decades because we believe that the community and its people supersede any expectations set by a corporation. This is your community. This is our community. When you are shopping for a new or used Ford F-150, you expect the experience to match the promise, which is why we are open and transparent every step of the way. Below, you will find more information about the F-150. We hope that you'll contact us and allow us the opportunity to show you why buying from Ray Skillman Ford truly is the best shopping decision you can make.
Ray Skillman Ford F-150
There's more to a vehicle demonstration than picking out colors and taking a test drive. At Ray Skillman Ford, we want you to know everything that's important to YOU for your next new vehicle. The F-150 is uniquely positioned in the Plainfield market because of our love of high-performance, super-tough machines. The F-150 has the proper mixture of strong performance and do-it-all toughness that's appealing to Plainfield. Our team is here to make sure you're aware of every feature, tip, and maintenance best practice because we take pride in delivering the ultimate shopping experience for our customers. Watch this video and get your engine revving for the new Ford F-150 pickup.
Attention to detail is important. You won't miss a thing when you shop at Ray Skillman Ford.
---
We know you have many options when it comes to Ford dealers in the Plainfield area. Our hope is that you will give us the first opportunity to earn your business because of the tremendous experience, great pricing, superb F-150 selection, and our commitment to making your buying experience the most positive one you've ever had when shopping for a vehicle. We stand behind the ideal of delivering the type of respectful engagement that the people of Plainfield deserve and if you give us the first opportunity, you'll see why our customers come back time and time again.
---
WHY RAY SKILLMAN FORD
---
Ray Skillman Ford is Indiana's Only…

Some dealerships take pride in their sales numbers. Others point to their P&L statements to determine their success. At Ray Skillman Ford, the most important indicator of whether or not we're successfully achieving our goals is when you are overwhelmed by our outstanding customer experience. It goes beyond satisfaction. We want you to be ecstatic with the way you were treated and impressed with how easy it was to get the best Ford F-150 deal in Indiana. Your opinion is the one that matters at Ray Skillman Ford. It's what drives our success.
---
Customers Come First
See What Our Customers Are Saying
---
---
Your F-150 Shopping Experience
We hope we've answered most of your questions about why you should consider Ray Skillman Ford as your first choice when shopping for a new or pre-owned Ford F-150. If you are ready to learn more, please contact us through your preferred method of communication and ask us anything you'd like to know. If you're ready to schedule your test drive, please use the form below. At Ray Skillman Ford, you control your shopping experience. We're here to help facilitate and to be your personal F-150 experts.