Roush Dealer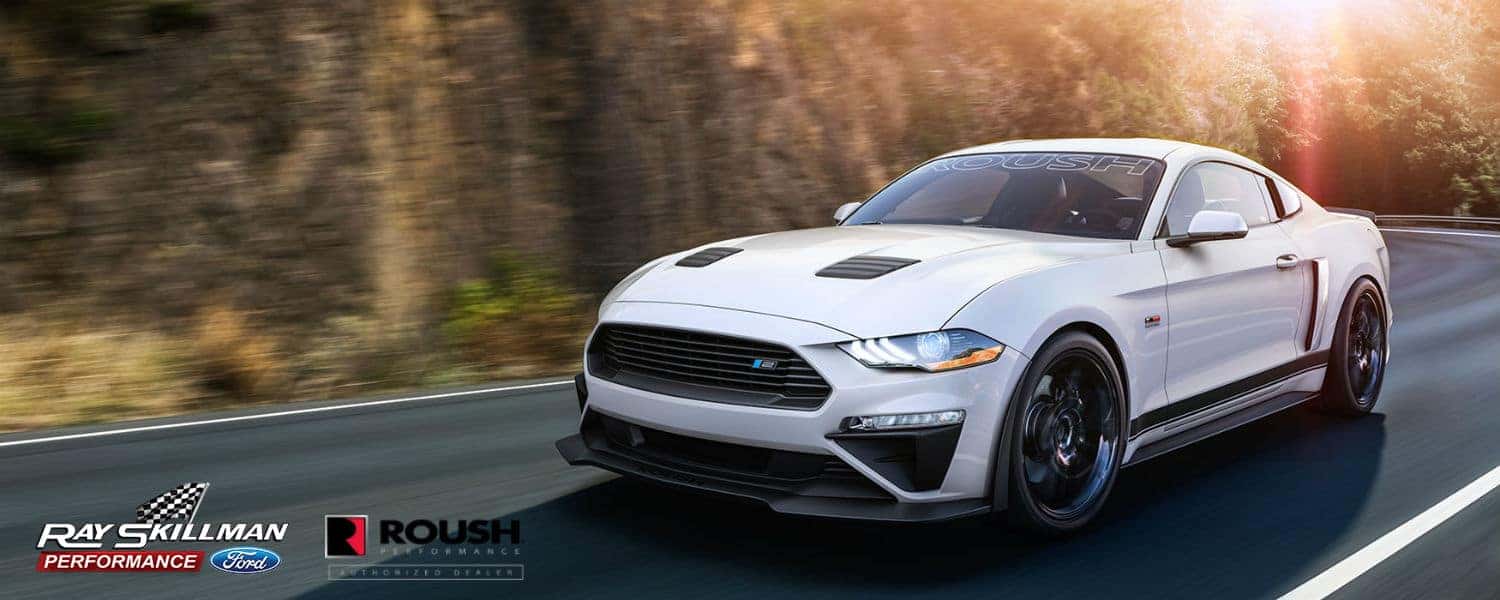 Roush Dealer
A Roush vehicle is a special machine. Built for unmatched speed and the ability to wring out every last bit of performance, a Roush vehicle looks and performs just as comfortably on the racetrack as it does on the road.
That's because a Roush vehicle is inspired by and built for racing dominance. And thanks to our being one of the biggest Roush dealers in the world, the team here at Ray Skillman Ford knows these cars better than anyone.
With powerplants that rumble the very pavement you ride on, race-tuned suspension built for getting deeper into the turn than ever (allowing you to hit the apex like never before), and an ultra-responsive high-end transmission that'll get you through the gears quicker than ever, driving a Roush is quite unlike anything else. And with styling flourishes that make your Roush look like its flying even when it's standing still, these rides are as equally fun to look at as they are to drive.
---
Roush Inventory
---

Owning a Roush makes a statement.
It's a vehicle people hear and feel before they see. And when they see it, flashing by in a blur of high-end performance, they notice it. And when they notice it, there's no mistaking that its driver is someone who cares passionately about performance. It's why you're reading this very page, contemplating buying a Roush.
Being one of the biggest Roush dealerships in the world means we have an unbeatable selection of and unequivocal access to these very special cars and trucks.
"Wait. Trucks?!" you say…
Well, Roush isn't just race cars. At Ray Skillman Ford, we have an amazing selection of thrilling trucks that have all received the Roush treatment. With tire and wheel suspension and powerplant upgrades galore, these trucks take "extreme" to the next level.
But whatever you're looking for — whether it's a Stage 3, a Roush Mustang, or an F-150 — we've got it here for you. And it's ready to make the statement you deserve.
Because performance starts at Ray Skillman Ford.

New ROUSH Mustang
Seriously, you know you're dying to put a new ROUSH Mustang in your driveway. Find yours now.

New ROUSH Stage 3
There's nothing quite like the thrill of tearing up the track in the muscle-bound ROUSH Stage 3 Mustang. Check it out now.

New ROUSH F-150
You've never met a truck as cool as this; seriously. Are you ready for this much muscle in an F-150? Of course you are.

ROUSH Performance
With real racing looks and performance, ROUSH knows how to thrill. Add that to a Ford, and you've got something special.
---
Roush Videos
---
---
---
Ask a Roush Expert
---
---
Ray Skillman has YOUR Roush
---

World-class experience
Buying a Roush should be the best vehicle-buying experience you've ever had. At Ray Skillman, we make sure of it by providing you with every detail you need and answers to every question you have.
Roush is special. Your experience buying one should be legendary. Whether you call, text, chat, fill out a contact form, or simply stop by the dealership, we're ready to show you what a world-class experience is all about.
---

We're enthusiasts, too
Unlike most Roush dealerships, we didn't select our staff based upon their high-pressure sales skills. We are proud that our team knows their stuff because we pick people who LOVE this stuff.
We are enthusiasts who appreciate speed, performance, and engineering perfection. Racing is in our blood. It's part of our DNA. If you're an enthusiast as well, we'll get along just fine. The best part of our job is watching another Roush driving away with someone who can appreciate it behind the wheel.
---

#1 for a reason
We have something in common with our customers. The competition is always in our rear-view mirror. We're humbled by the fact that it's YOU who makes us one of the largest Roush dealerships in the world.
We happily return the favor by striving every day to be the best partner for our customers. Owning a Roush requires trusted people to answer questions and keep your vehicle in prime condition. That's the secret to our success.
---

Roush trucks are here
In Indianapolis, we love our trucks. There's no better way to power a vehicle with all four wheels than with a Roush F-150. Mean, versatile, and capable of combining power with speed, Roush Performance takes an incredible truck to the next level.
Our specialists know these vehicles inside and out. While most Roush dealers focus solely on their cars, we take pride in keeping a strong inventory of F-150s ready to take on the road, snow, mud, or anything you can throw at it.
---

More choices than anyone
A Roush Performance vehicle is like no other. It makes a statement that you have the discernment to buy a vehicle that dominates on the street, even if it belongs on a race track. There's no reason to settle for one that's not your top choice.
At Ray Skillman, we have the selection you need to match you with your new Roush. You don't just want a Roush. You want YOUR Roush. If anyone has the perfect one for you, it's Ray Skillman.
---
Ray Skillman Customer Reviews
---
Our experience with Ray Skillman Hyundai was superb. We are already a family of Hyundai owners, so we knew we would probably be purchasing another one. The staff here were great and made sure we were taken care of throughout the whole process. We were not done in one day and took a few days to test drive, think on it, and then finalize. Throughout this time, we never felt pressured by the staff to hurry up and make a decision or finalize the purchase. Any follow-up was very thoughtful and felt as if they just wanted to make sure we were put in the right vehicle. Additionally, the Hyundai checklist they have to go through to ensure you understand all the features is great! We did a major upgrade and it was super helpful to have someone go through every little thing!Thanks, Ray Skillman Hyundai!
Chris was as helpful as could be and the finance manager was great as well. so happy i chose to work with them, simple and painless beyond upsetting the wife hahah
The crew was very professional and friendly. Had a great experience and would recommend you check them out.
Very pleased with my new vehicle! My sales rep Manny was very friendly and helpful, not to mention made sure to get me the lowest interest rate possible! Very happy...great job!
Johnny Stewart was great! So helpful without all the pressure. A very honest man. Peter in finance was hilarious and explained every detail to me before I signed anything. I WILL be back to do business with them again!! Thanks for the great experience!
I really recommend Manny Aguayo
They were very professional!!! The whole process was about 2 hours. Everything was explained such as warranties and gap insurance and any other questions I had. I would recommend them to anyone. Very happy with my purchase!!!
Darla was amazing and very patience while we figured out what kind of vehicle we wanted! We are very happy with our new Palisade! Great job!
What a wonderful experience! Both the sales person and finance officer were simply wonderful. It was good to see customer service alive and well! They took the time to evaluate my lifestyle and needs before matching me with a vehicle. Their years of experience were evident. I was never pressured at all. I strongly recommend Ray Skillman if you are even remotely interested in buying a vehicle. I wish I could give both of those gentlemen a bonus!
Its was a pleasure to work with Skillman Ford more specifically Kristine Dunn she is such a professional sales specialist. I also felt as a neighbor returning to Skillman for another purchase in the friendly atmosphere.. Whether its service or purchasing a trucks, this was my 5th Skillman purchase, second F-150 truck. When I was a young man I had an F-1 Ford truck. The facility is always spotless, the employees are always professional in appearance and demeanor. I do not have any interest in Skillman only as a satisfied customer. I have purchased two trucks and three cars and all of the maintenance performed at Skillmans. Not a minutes problem. I have recommended several friends and co workers to Skillman.
---