ROUSH Performance for Sale in Greenwood, IN

INDIANA'S #1 ROUSH DEALER
Indiana's #1 Roush Dealer is Ray Skillman Performance Ford located in Greenwood, Indiana. Roush and Ray Skillman Performance Ford joined forces back in 2008 and it has been a winning combination for over 12 years. Ray Skillman Performance Ford has been Roush's #1 dealer in the country five consecutive years. With that kind of partnership, you can always count on the largest inventory of Roush Mustangs, Roush F-150s, Roush Raptors, and Roush Super Dutys in the state. Our inventory features the ROUSH Stage 3 Mustang equipped with the ROUSH Supercharger (TVS 2650) gaining 750 Horsepower, our off-road beast the ROUSH F-150 featuring the Fox Shocks 2.0 off-road suspension and 2" inch lift, and the fastest production truck ever built the Roush Nitemare outputting 650 Horsepower! As an official Five Star Roush dealer, we have access and can install all Roush Parts including Roush Superchargers, Roush Cold Air Intakes, Roush Exhaust and so much more! To become an official Roush dealer you must have the knowledge and experience to serve the Roush owner, our performance team, Josh and Carson, are exclusively set up so that they focus solely on performance and understand the ins and outs of these vehicles. If you do not live in Indiana that is okay, our Roush Performance team will work with you over the phone, email, or text to find the perfect Roush car or Roush truck and then Ray Skillman Performance Ford will arrange for your Roush to be delivered right to your door. If you are looking for a vehicle with extensive engineering and attention to detail look no further than a Roush vehicle, and when looking for a dealership with excellent customer service and knowledge to buy a Roush from, look no further than Ray Skillman Performance Ford. Race into Ray Skillman For a Roush.
WHY CHOOSE A ROUSH
Jack Roush always said, "Between a Road Car and a Race Car is a ROUSH Car!"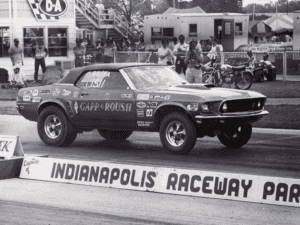 Roush's automotive career began as an engine developer for Ford Motor Company. He quickly was drawn to drag racing and created his own team and won multiple championships over the years. Combining engineering and entrepreneurship he founded Roush Performance Engineering in 1976.
Roush's time racing span across all forms of motorsports from NRHA, IMAS, SCCA, and NASCAR just to name a few. Some of his most notable wins include 10 consecutive championships at 24 Hours of Daytona sedan class. With the boldest leap into NASCAR in 1988, he started with a one team car and driver Mark Martin. He created an astounding reputation for driver development, having 13 drivers earn Rookie of the Year awards and 19 different drivers win while driving his cars.
In 2007, Roush Racing and Fenway Sports Group formed Roush Fenway Racing to create one iconic partnership. This partnership has won over 325 Cup Series victories and five owner championships. Jack Roush is now the winningest owner in NASCAR history and an icon of American engineering. Roush was also inducted into the Automotive Hall of Fame in 2017 and set to be inducted into the 2019 NASCAR Hall of Fame.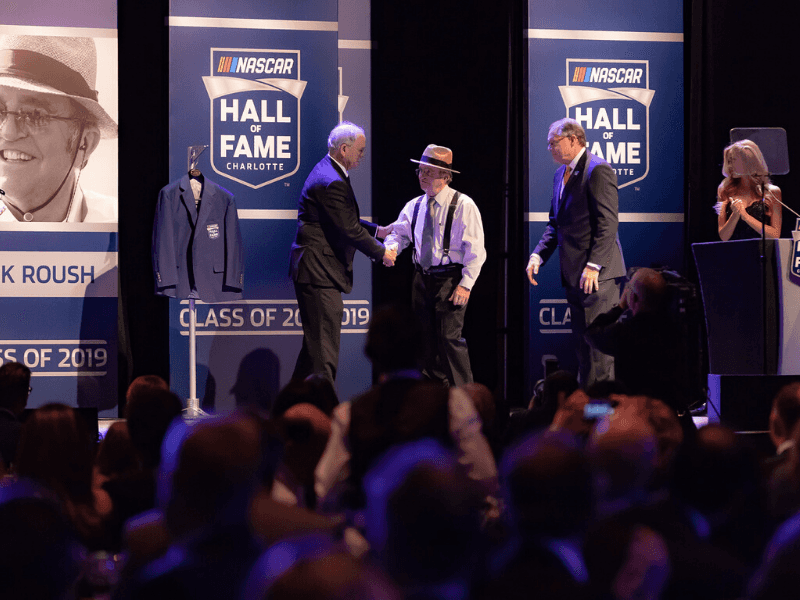 Engineer at heart, Roush has created multiple technological and safety innovations. He created the roof flaps to disrupt airflow to help prevent stock cars from going airborne.
THE ROUSH PROMISE
At ROUSH Performance, it's not enough to deliver heart-pounding performance, unparalleled refinement, and race-inspired styling. We take a step further and back it up with an industry-leading 5-year, 60,000-mile powertrain warranty to show you that we are with you on this ride.
ROUSH vehicles are rigorously engineered and tested to prevent issues down the road, but should they occur, you can rest assured knowing that we are here to help. All new ROUSH's come standard with 3 year/ 36,000 miles body warranty and 5 year/ 60,000 miles limited powertrain warranty.
ROUSH MODELS
ROUSH F-150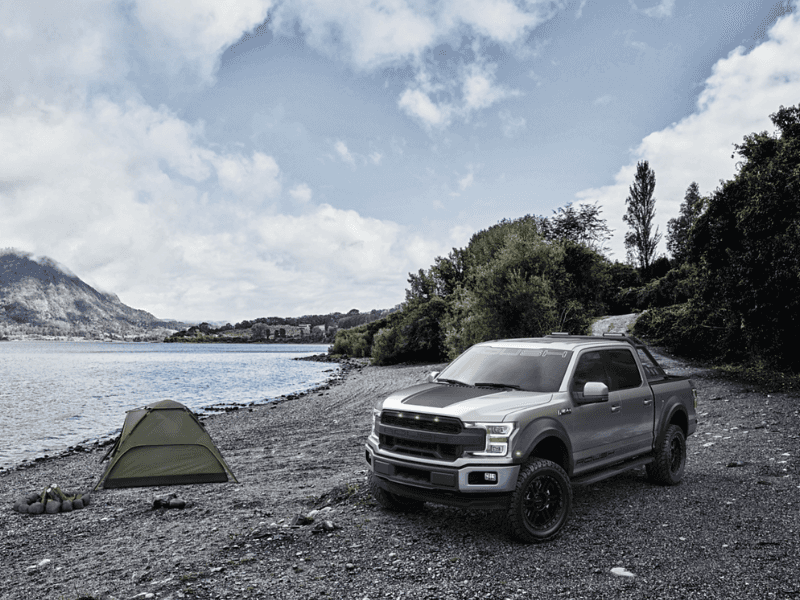 The Roush F-150 is Rugged and Redefined. This Roush F-150 combines off-road capability with rugged good looks. This truck offers excitement on any terrain, but thanks to the FOX 2.0 off-road suspension and lift you will explore in comfort. With an aggressive appearance, you will look good no matter where you go.
Click Here For More Info on the ROUSH F-150 >>
ROUSH F-150 SC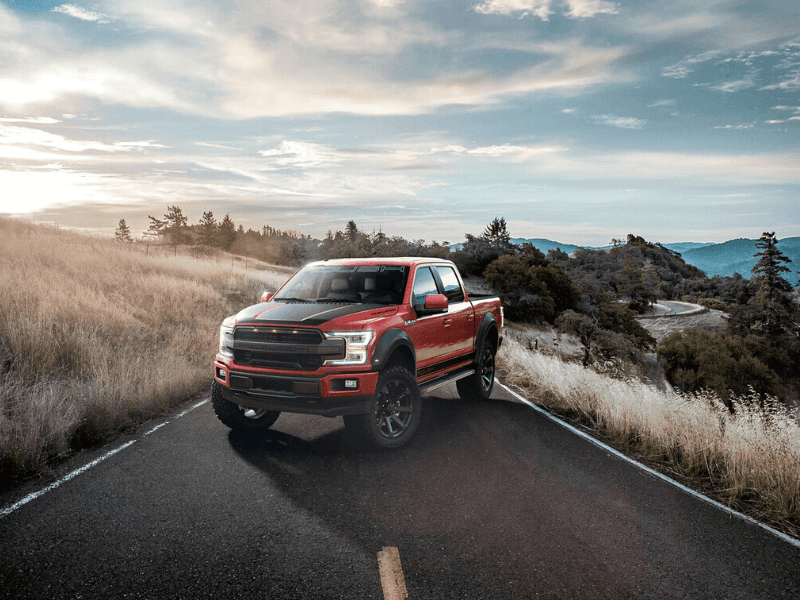 This Roush F-150 SC is Supercharged with 650 horsepower and 610 lb-ft of torque. It provides enough performance to hit the street, trail or put it to work. Turn heads and have enough power to make an impact wherever you go.
Click Here For More Info on ROUSH F-150 SC >>
ROUSH F-150 NITEMARE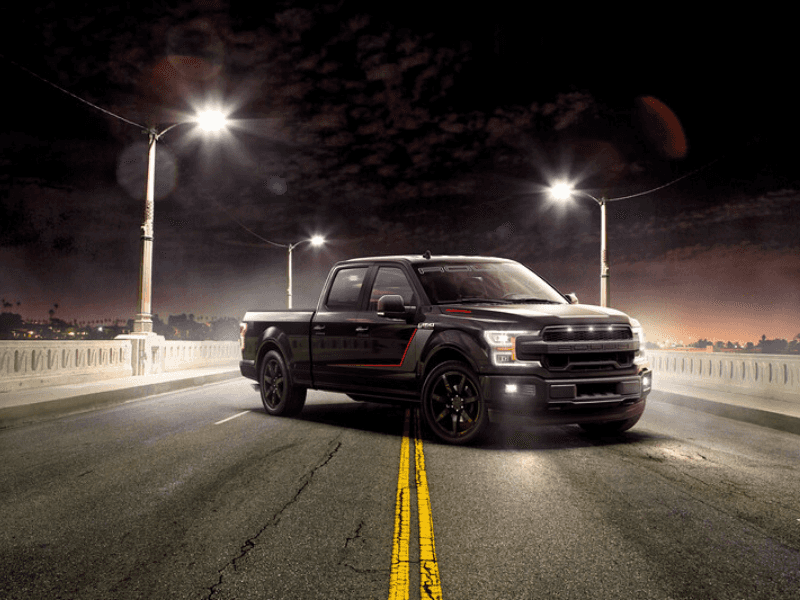 The Roush F-150 NITEMARE is lowered and lethal, this F-150 is atop the game of lowered street trucks. With 650 horsepower and 610 lb-ft of torque, this truck can go 0-60 mph in 3.9 seconds or the SuperCrew 4×4 can do in 4.1 seconds. This is the quickest production truck to ever be built.
Click Here For More Info on ROUSH F-150 NITEMARE >>
ROUSH RAPTOR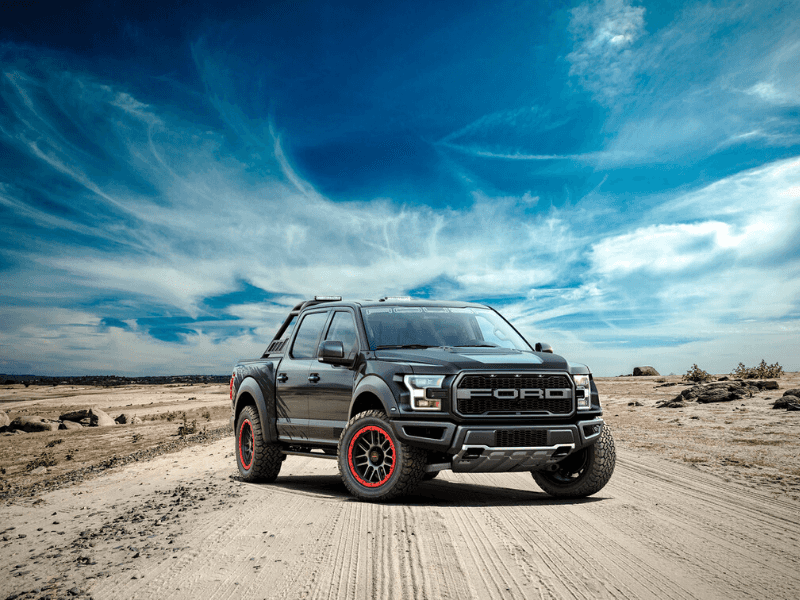 The Roush Raptor has commanding style and dominating performance, this truck combines signature ROUSH styling and unbeatable off-road capability with the ultimate all-terrain package. The 20-inch bead protection protects the wheels from off-road damage or curb rash.
Click Here For More Info on ROUSH Raptor >>
ROUSH SUPER DUTY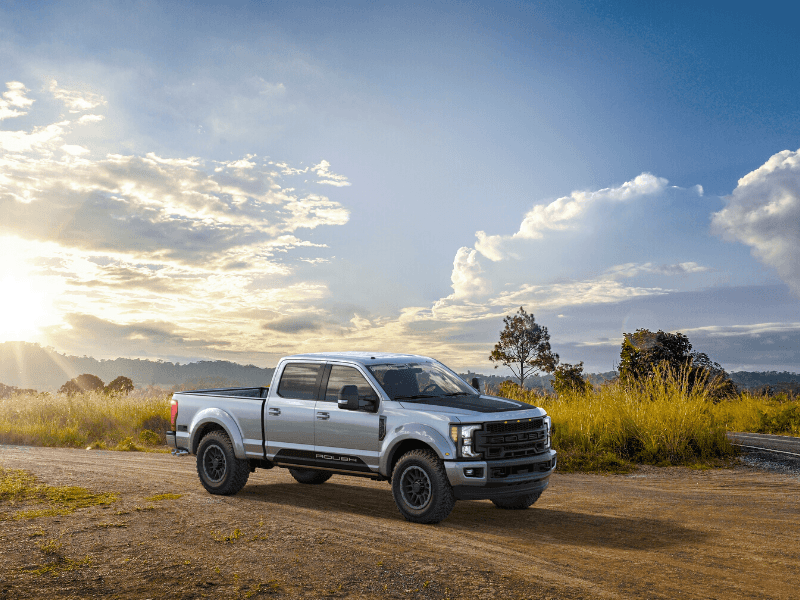 Put the Roush Super Duty truck to work and handle the toughest job with this lifted truck while still turning heads. This workhorse has upgraded front and rear shocks to better accommodate bigger tires yet maintain tow capacity. The leveling kit also provides an aggressive and capable stance.
Click Here For More Info on ROUSH Super Duty >>

ROUSH STAGE 3 MUSTANG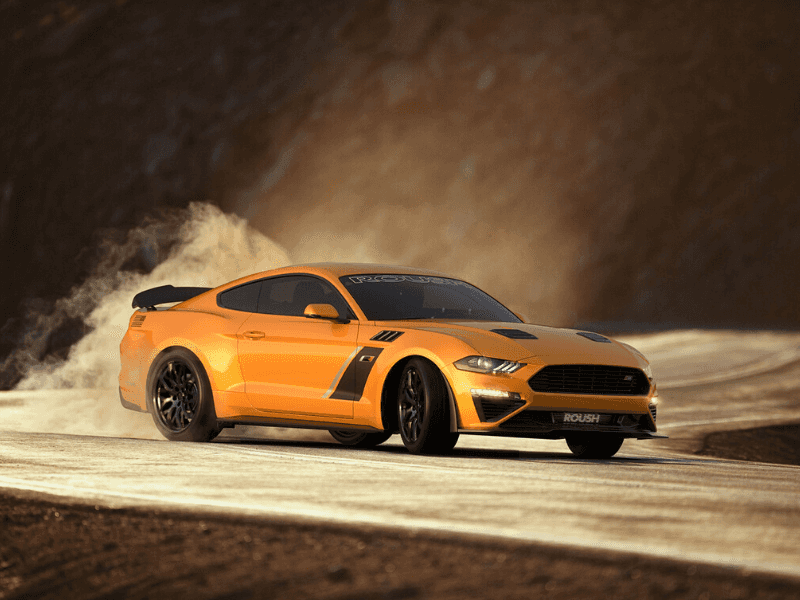 The Roush Stage 3 Mustang has head turning performance featuring 750 horsepower and 670 lb-ft of torque this ultimate driving machine can do 0-60 mph in 3.6 seconds or 11.2 seconds in the quarter mile. You will stand out from the crowd with its aggressive stance and piano-black fascia, prominent rear spoiler.
Click Here for more info on ROUSH MUSTANG STAGE 3 >>
ROUSH STAGE 2 MUSTANG

The Roush Stage 2 Mustang is customized and has you track ready. This muscle car puts you in the driver's seat both on and off the track. With its 5.0L V8 engine pushing 460 horsepower and 1.07 lateral Gs on the skidpad. This Mustang captures timeless American appeal.
Click Here For More Info On ROUSH Mustang Stage 2 >>
ROUSH PARTS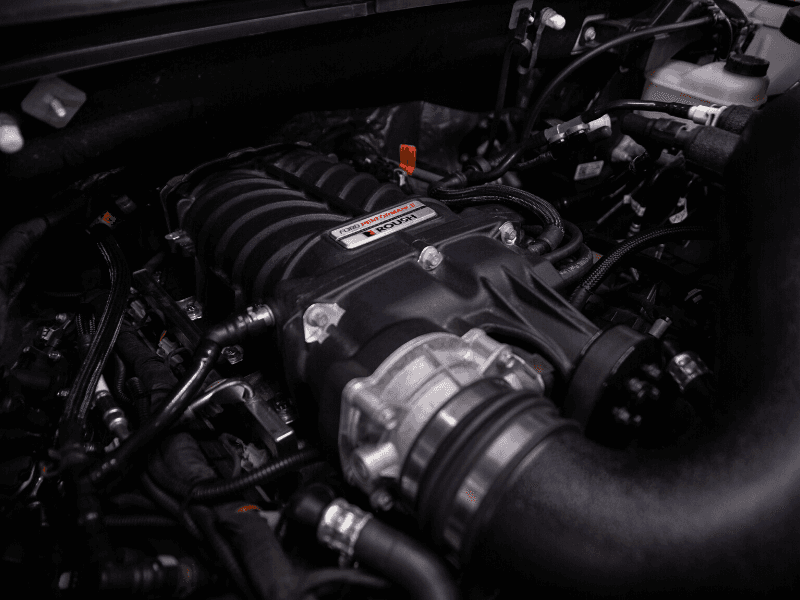 Get ROUSH Performance aftermarket parts to fully customize and upgrade your ROUSH performance vehicle. Parts are available for Mustangs, F-150, Super Duty, Ranger, Focus, and Taurus. Parts include things such as intakes, exhaust, replacements parts, superchargers, performance pacs, suspension, wheels, tires, and accessories. Click Here to explore Roush Parts >>
Have a question about a Roush Performance vehicle? Check Out Our Frequently Asked Questions Here
THE RAY SKILLMAN ADVANTAGE
Performance at Ray Skillman Ford has been ROUSH's premier retailer a total of 5 years in a row! We partnered with ROUSH back in 2008. Just like ROUSH, racing is in the Skillman family blood. The Skillman family eats, breathes, and lives racing. Three generations of Skillman's, Ray, Bill, and Drew have all been beyond successful in the sport of drag racing.
Most recently the Skillman family has won the NHRA Factory Stock Showdown in a Ford Mustang. Drew Skillman has also won the 2015 Road To The Future NHRA Rookie of the Year award.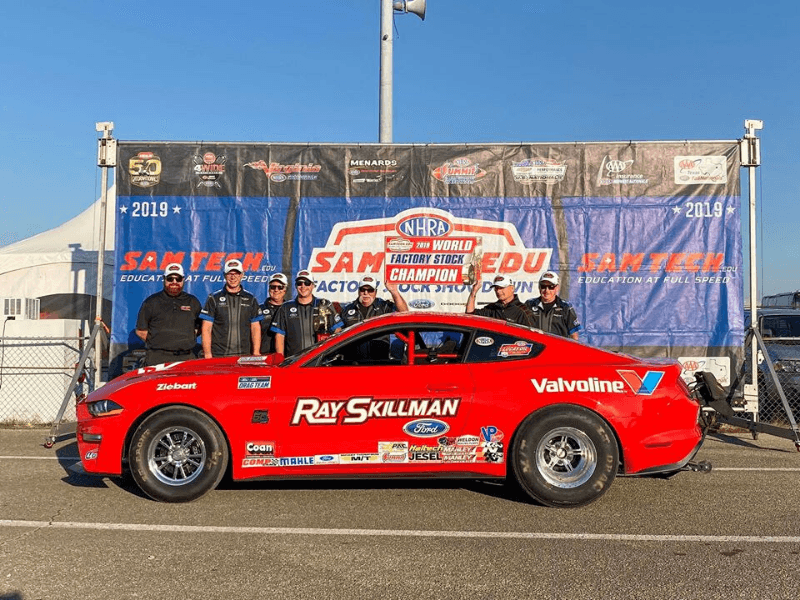 Check out all of the ROUSH Vehicles available here at Performance at Ray Skillman Ford:
We appreciate your interest in our inventory, and apologize we do not have model details displaying on the website at this time. Please fill the form out below and our team will quickly respond, or, please call us at 317-885-9800 for more information.

RACE INTO RAY SKILLMAN TO GET YOUR ROUSH
Ever since we first opened our doors, we've believed in offering top-notch customer service. That's why you won't find any gimmicks or high-pressure sales techniques. Our team loves spending time to get to know you and your needs so we can help you find the right car for your life. Our professionalism extends beyond the showroom and into our finance department, as well. Whether you're looking to buy or lease, we work with you to find the right options for your budget. It's about time you treated yourself to a car-buying experience worthy of your time. Stop by and see the Ray Skillman difference!
When you are looking for your Performance vehicle, look no further than to purchase with a group that knows performance!