Ford Escape Martinsville IN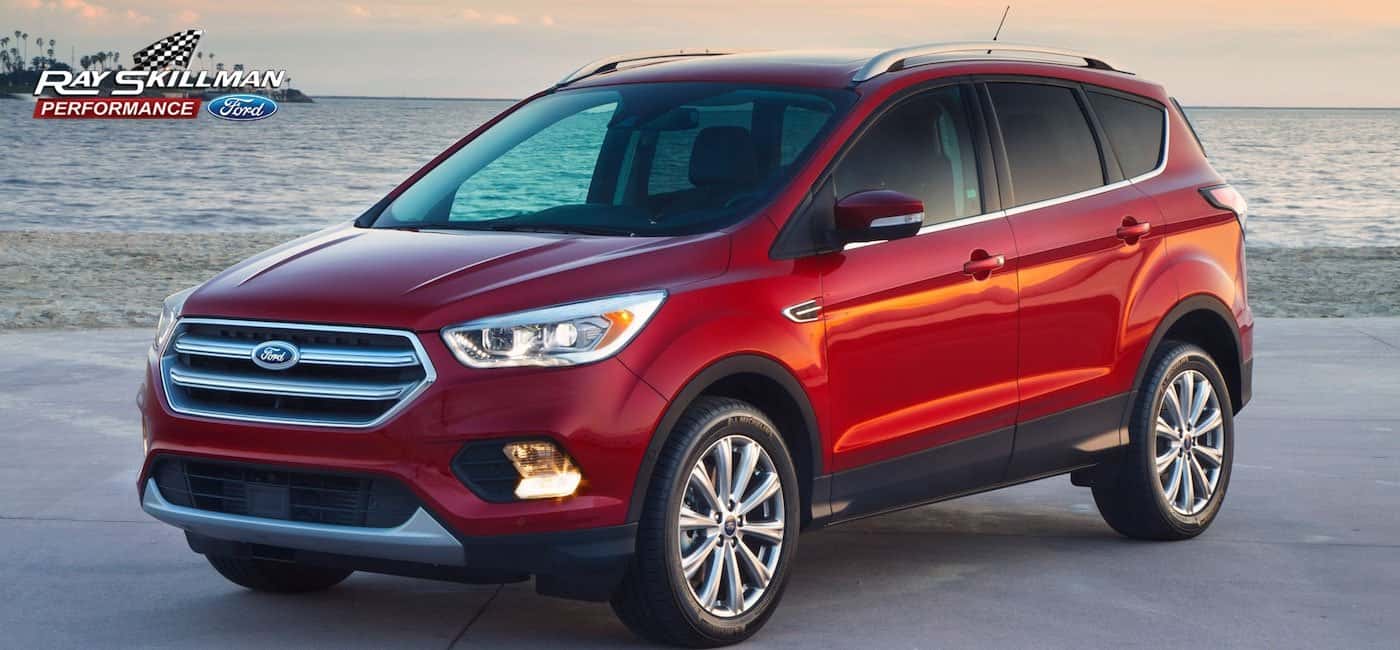 Ray Skillman Performance Ford
Get Ready For Your Great Escape
The Ford Escape is the SUV that has a little bit of everything for everyone. From advanced technology to towing and versatile seating, we know our customers in Martinsville, IN will love the Escape. Come see it today at Ray Skillman Ford.
Along with your growing family come many new needs. You need an SUV that is not only roomy and versatile, but you also need it to be functional and full of the things you need to make your life a little more convenient. The Ford Escape is a great choice for people who need a roomy and functional SUV that can get them where they need to go. Stop by Ray Skillman Ford and take a look at the Escape today.
The Fun In Functional
The Ford Escape is one of the most functional SUVs on the roadway. Not only does it have an intelligent 4 wheel drive system that monitors traction every 16 milliseconds to give you a safer driving experience, but it is also capable too. With the ability to tow up to 3500 pounds without flinching, you get the ability to take your boat to the lake, the camper trailer to the mountains, or haul your toys everywhere you want to go. The Trailer Sway Control gives you more control over your towing experience by keeping an eye on the trailer for you and make adjustments when needed. When you need more room inside your Escape, you can opt to put all rows down for a maximum of 68 cubic feet so you can take everything you want to along for the ride. Come by Ray Skillman Ford and see how Escape can enhance your weekend getaway today.
Enjoy The Ride
You shouldn't have to be uncomfortable when you drive; we think you should enjoy the road and especially your car when you head out, whether to work or play. The Ford Escape was designed to make driving fun, while more convenient at the same time. The Escape features SYNC 3 that gives you more out of your technological experience. From integrated navigation that gives you real-time traffic updates and 3D maps so you can always get to your destination on time and without hassle. It can also stream your favorite music from Pandora, iHeartRadio, or from your smartphone via Bluetooth to give you a better driving experience. Siri Eyes Free allows you to make phone calls, send text messages, and more all with the sound of your voice. Stop by Ray Skillman Ford and let our tech experts do a demonstration for you today.
Keep It Safe
One of the top priorities for parents and pet parents alike is to keep our precious babies safe and sound. The Ford Escape can help you to accomplish this because it offers preventative features designed to help you avoid an accident. The Blind Spot Information System with Cross Traffic Alert was designed to give you an extra set of eyes and can help you decide when to move your Escape into another lane or out of the driveway. Adaptive Cruise Control with Forward Collision Warning and Brake Support help you to keep a safe distance from the vehicle that is in front of you and stop when you aren't able to in time. The Lane Keeping Assist System was designed to help alert you when you drift out of your lane and keep you safe in your lane as you cruise down the road. For a list of all safety features, come visit Ray Skillman Ford today.
Make Your Escape
Ray Skillman Ford believes you should have options when it comes to buying a car. With multiple locations to serve you, we offer a great selection of vehicles. Just at our store alone, we offer over 100 Escapes alone, so you will always get the car you want with the options and color you desire. Browse our extensive inventory online from the comfort of your own home, then when you are ready, come down and see us to take it for a test drive around the town. Once you have fallen in love, we will work hard to make owning the Escape a reality for you. We even offer in-house financing for those with bruised credit, so don't get discouraged, come down and see us today.

New Escape Martinsville
Seriously, you know you're dying to put the Escape in your driveway. Find yours now.

Pre-Owned Escape Martinsville
There's nothing quite like owning an Escape, that's why it's easy to maintain a strong selection of pre-owned models to choose from.

Incentives and Rebates
The Ray Skillman discount is always above and beyond what Ford offers on new vehicles.
Experience the Skillman Difference
Buying a vehicle is a special experience. We understand that this isn't something our customers do every day, which is why we treat every interaction with the respect that it deserves. Ray Skillman has served the Martinsville market for decades because we believe that the community and its people supersede any expectations set by a corporation. This is your community. This is our community. When you are shopping for a new or used Ford Escape, you expect the experience to match the promise, which is why we are open and transparent every step of the way. Below, you will find more information about the Escape. We hope that you'll contact us and allow us the opportunity to show you why buying from Ray Skillman Ford truly is the best shopping decision you can make.
Ray Skillman Ford Escape
There's more to a vehicle demonstration than picking out colors and taking a test drive. At Ray Skillman Ford, we want you to know everything that's important to YOU for your next new vehicle. The Escape is uniquely positioned in the Martinsville market because of our love of high-performance, super-tough machines. The Escape has the proper mixture of strong performance and do-it-all toughness that's appealing to Martinsville. Our team is here to make sure you're aware of every feature, tip, and maintenance best practice because we take pride in delivering the ultimate shopping experience for our customers. Watch this video and get a taste for how we assist our customers in making the best selection for them.
Attention to detail is important. You won't miss a thing when you shop at Ray Skillman Ford.
---
We know you have many options when it comes to Ford dealers in the Martinsville area. Our hope is that you will give us the first opportunity to earn your business because of the tremendous experience, great pricing, superb Escape selection, and our commitment to making your buying experience the most positive one you've ever had when shopping for a vehicle. We stand behind the ideal of delivering the type of respectful engagement that the people of Martinsville deserve and if you give us the first opportunity, you'll see why our customers come back time and time again.
---
WHY RAY SKILLMAN FORD
---
Ray Skillman Ford is Indiana's Only…

Some dealerships take pride in their sales numbers. Others point to their P&L statements to determine their success. At Ray Skillman Ford, the most important indicator of whether or not we're successfully achieving our goals is when you are overwhelmed by our outstanding customer experience. It goes beyond satisfaction. We want you to be ecstatic with the way you were treated and impressed with how easy it was to get the best Ford Escape deal in Indiana. Your opinion is the one that matters at Ray Skillman Ford. It's what drives our success.
---
Customers Come First
See What Our Customers Are Saying
---
---
Your Escape Shopping Experience
We hope we've answered most of your questions about why you should consider Ray Skillman Ford as your first choice when shopping for a new or pre-owned Ford Escape. If you are ready to learn more, please contact us through your preferred method of communication and ask us anything you'd like to know. If you're ready to schedule your test drive, please use the form below. At Ray Skillman Ford, you control your shopping experience. We're here to help facilitate and to be your personal Escape experts.